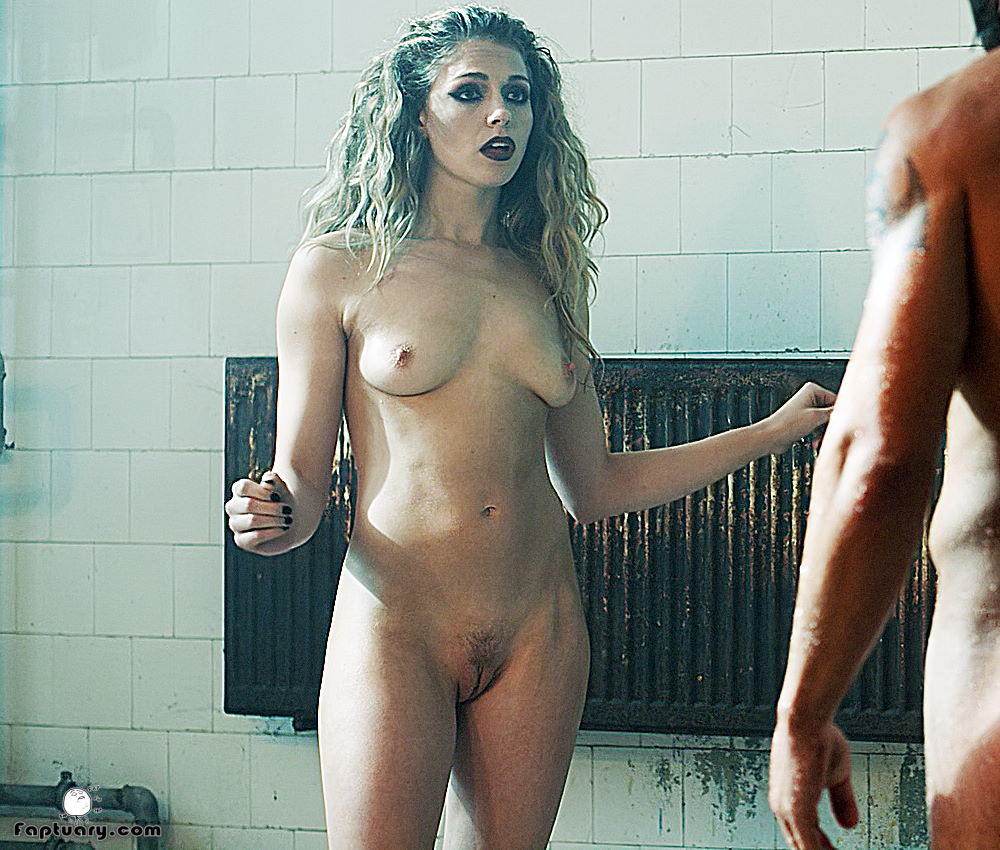 If I had to give one reason to watch Death Race 4: Beyond Anarchy, it would be to see Lucy Aarden naked. I'm neither joking nor exaggerating when I say that this movie contains one of the greatest nude scenes of all time. The Lucy Aarden nude scene in the shower in the film is absolute perfection as far as film and television nudity goes. I understand that some of you may have reservations around it being a little bit dark overall, so I'd like to qualify my statement by saying that I grade the quality of a nude scene by how much detail is technically there, even if it's not obvious at first glance. In other words, if the actress' pussy lips appear to be in shadow in the scene but are made visible with a bit of digital trickery (AI not allowed, of course), that fits the bill.
And that is definitely the case in Death Race 4: Beyond Anarchy. To be fair, even when you watch the film with the color grading and lighting that the producers intended, it's not particularly difficult to make out the trimmed bush on Lucy's pudenda or the cleft between her labia (what? too clinical?), but with the kinds of touch-ups that I put the footage through, it's about as clear as if it had been shot with the English actress standing at the confluence of a hundred spotlights. I'm sure the results speak for themselves, but I feel obligated to say that there's no part of Lucy Aarden nude that isn't visible here.
Death Race may not be the only franchise in which we get to see Lucy Aarden nude (more on that in a bit), but this movie is definitely the one where we get to see her the most naked. The color correction reveals that even her inner labia feature in the shots. Inner labia! Seriously, I challenge any of you to tell me how many mainstream movies (pornos of any breed excluded) have their mainstream actresses do nude scenes with their inner labia clearly visible. The only way this nude scene could be more explicit is if the Shakespearean actress was pulling her pussy lips apart while the camera does an extreme close-up of her clit. Lucy, if you're reading this and have been considering future steps in your career, yes, there definitely is a market for that.
The funny thing is that we've only seen Lucy Aarden topless in one other feature, so it's not like this is a sort of career trajectory for her or anything like that. A year after her watershed performance in Death Race 4: Beyond Anarchy, she was in an episode of Game of Thrones as Craya or Crayah, a King's Landing prostitute. She got naked for that. Of course she did. It was Game of Thrones, after all, which still had a reputation for rampant, gratuitous, and wholly unnecessary nudity, unlike its significantly more tame successor, House of the Dragon.
Didn't quite get a Lucy Aarden sex scene in that fated episode, but that's more than made up for in this movie, which includes multiple shots of her being taken doggy style by Frankenstein, including more than one of her tits bouncing and swaying in a nature as graphic as is fit for a softcore porn film. Seriously, I cannot stress enough just how gratuitous the nudity is in this movie. The fact that so many of the extras are running around topless or bare-ass naked half the time is one thing, but it's even other named characters, including Vanina Arias' character, whom I'd covered earlier. Sadly, no nude scenes from Christine Marzano or Yennis Cheung, who play the sort of background roles of female protagonists, but with an antagonist like Lucy Aarden's Carley, the perpetually nude Betty Boop-sounding villain, that's more than made up for.
You're all aware that I don't cover pornography on the Faptuary. For this reason, I want to touch back on the point I'd made a few times about Lucy Aarden being a mainstream and serious actress. While I understand that a secondary role in a "straight-to-DVD 'geezer' movie" is far from exemplary of such status, the actress' role in Nemesis does nonetheless reinforce the point. What reinforces it even more is Lucy Aarden's theater pedigree – from the stage to not-exactly-the-stage to pure voice work, the last of which apparently includes voice dubbing for (presumably the extras) in Death Race itself.
I could probably go on forever talking about Lucy Aarden nude in Beyond Anarchy, but space is limited and so is any sane person's attention span when exposed to my absolute drivel, so I'll just start pulling to a close by reiterating that this is genuinely among the greatest nude scenes ever made, and I'm quite pleased with the result of my color correction, which, if I do say so myself, blew the others out of the water. Also, if someone wants to bring up the Lucy Aarden nude scene in Endeavour, guess again. Finally, it's not easy to spot in this film, but Lucy's heterochromia bumps her up from a solid 10 to a mathematically-impossible 11 for me. Enough babble. Unzip that fly and enjoy Lucy Aarden naked in Death Race: Beyond Anarchy.