Anyone who's watched Feast of Love knows that the best part of it was seeing Radha Mitchell naked. Wait. Where does that sound familiar? Some of you who have spent or will spend more time on the site will be familiar with the post where we saw Alexa Davalos naked from the same film. There's actually a striking similarity between the two actresses' appearances in the movie. Both of them had the only full frontal nude scenes of their careers here. Similarly, both of them had exactly one other nude scene in existence, and both involved an uninspiring, borderline-unfappable glimpse of nip that might as well not even qualify as a nude scene. For the curious, in Radha's case, I'm referring to 1998's High Art.
But that's all right. Once again, my boy Robert Benton bestows us unworthy mortals with a blessing unmatched by his contemporaries. The first time we see Radha Mitchell naked in the film, she's riding the luckiest dude on the planet in a scene that's interspersed with shots of Alexa Davalos recording a sex tape (as one does when boredom strikes). We get some sideboob from the side, followed by a closer shot of her glorious titties from a more frontal angle as she tries a bit of reverse cowgirl. These scenes aren't particularly long, and they are quite dark, but a bit of color correction and the loop function make for good content to beat your meat to.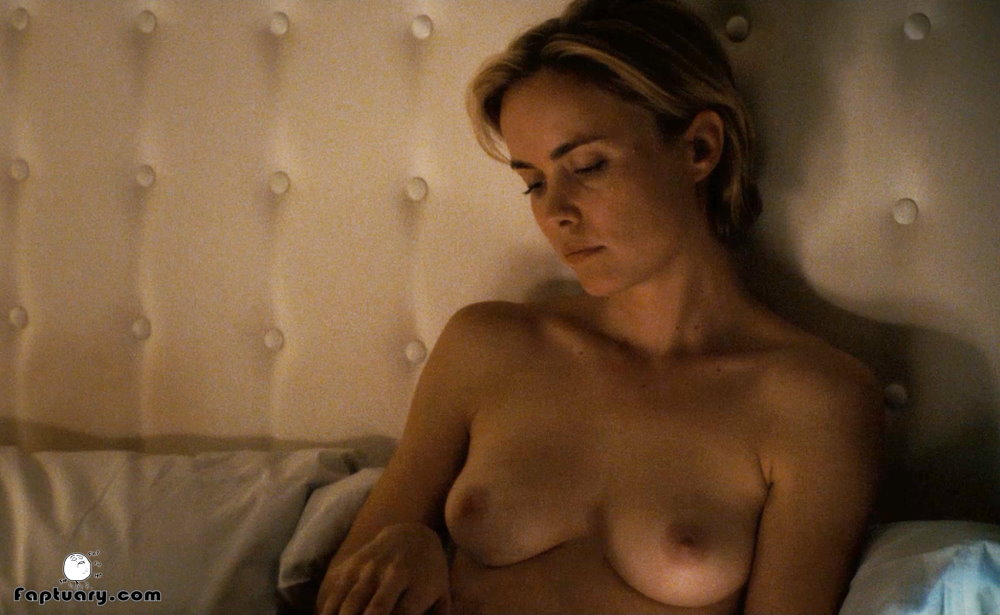 This isn't the only time we see Radha Mitchell nude in Feast of Love. Her next nude scene is significantly longer. It starts with her reclining in bed. The shot is zoomed in to cover her face and the top part of her chest. At first, the nudity is only implied, but then the camera zooms out, revealing her perfectly-positioned nipples in all their glory. The professional fappers amongst us could easily start and finish before this scene ends. It's long enough, and her breasts remain unobscured the entire time. The guy whose head she was stroking gets up at one point, showing us a bit more skin (hers, not his; well, his as well, if that's what you're into). A wine glass makes an appearance at one point, because who doesn't drink wine in bed?
An argument ensues, likely over the impracticalities of drinking wine in bed and the costs of getting wine stains out of mattresses and bedsheets. The guy fucks off out of the way, giving the camera operator an excuse to fill the frame with an angry and topless Radha Mitchell as she continues to argue with him. Again, I've already forgotten what the argument was about, but I believe it had something to do with Konrad Adenauer's social pension policies. Or infidelity. The overlap is extensive. More importantly, the directing focuses so much on Radha Mitchell's naked body, that my brain rerouted most of the energy it normally gives to my ears to my eyes, and most of my blood to my… nether realms.
Like all good sex scenes, it ends with Radha Mitchell getting out of bed bare-ass naked and escalating the fight to the point that it gets physical. Spoiler alert: she gets slapped. I didn't realize this until my 17th rewatch of the film, though, since her labia are fully visible during this entire time. In fact, she sports the patrician's choice in feminine pubic hair: Trimmed bush up top, fully shaved pussy lips below. If you've seen Feast of Love before but feel like this wasn't part of it, you weren't wrong, but you weren't right either. If you've seen the DVD, a web stream, or a TV stream, you might have thought that it was all bush, but in reality, you were bamboozled by the combination of low resolution and low lighting. The blu ray with a healthy level of color correction reveals that her labia, and I mean both outer and inner labia, were on display all along, merely in shadow. If the images above don't do it justice, the full HD 1080p resolution screencaps from the blu ray are below. Happy fapping.