Watching Christina Ricci naked in movies was one of the things that made the first decade of the new millennium worth living. Indeed, when I think of the 00s, I think of nu metal, three quarter shorts, and Christina Ricci nude on the television screen – DVD if you were lucky; VHS otherwise. Anyone that has been following (and fapping to) her career knows that we have since been blessed with blu ray releases of even some of her earlier work, which meant enjoying the nudity in crisp high definition. I can tell you for free that teenage me would have probably died of bliss if someone told him that in a decade, all of his favorite nude scenes would start getting full HD releases. Of course, we're at the stage now when full HD nudity is becoming the minimum acceptable standard and what is currently accepted as the impressive resolution is 4K ultra HD 2160p. Truly the relentless march of technology.
There is a bit of a dark side to it all, though. Sure, it starts off with borderline-innocent (but more borderline than innocent) stories of a barely legal Christina partying with an even younger Gaby Hoffman and Courtney Love (yes, the Courtney Love of playing-guitar-naked-on-stage fame) and being dragged by the latter to casinos and strip clubs. Then you get to the darker stuff like not getting the lead roles during the romantic comedy era because she was typecast as the emotionally dead – or, in the case of this film, literally dead – goth girl that exists to get naked. The New York Times article even appears to confirm that Christina Ricci had breast reduction surgery at the age of 19 "because she couldn't stand the way people talked about her body." This is certainly news to me since for the bulk of her adult career, the Santa Monica-born actress has denied multiple times ever having plastic surgery to make her boobs smaller, or so the meme goes. People have certainly been guessing that she's had a boob job (anti-boob job?) for ages. I guess your tits can only shrink so much before people start being suspicious that it's not weight loss alone causing it.
Even so, this seems not to have distracted from the cornucopia of Christina Ricci nude scenes, which continue to carry legends of their own. In a very recent episode of Variety's Actors on Actors, the actress told Sydney Sweeney of a movie in which she was pretty much naked for the entire time and remained naked between shots of nude scenes. Something about looping the awkwardness all the way around to being not awkward again, a set of experiences which the Independent have linked quite appropriately to a more direct interview with the Euphoria actress. In the Variety interview, Christina Ricci doesn't actually say which movie she is talking about. Some commenters have assumed that the movie in question is Black Snake Moan. I can understand why. It's one of my favorite movies to beat my meat to… I mean to enjoy the natural beauty of the human form… to. But I have another theory. I'm a lot more confident that the movie in question, the one in which Christina Ricci was naked through much of the shooting, was none other than After.Life.
Everyone knows all about the endless scenes in Black Snake Moan of Christina Ricci, sexy in a Confederate crop top and daisy dukes, or even just the crop top and a pair of stained white panties… or even just the white panties and a heavy metal chain. And there were nude scenes in that too. Oh good Lord, were there nude scenes in Black Snake Moan. But you see, the reason I thought that didn't fit with her description in the interview is because in that movie, she is dressed in very skimpy, barely-there clothing for just about the entirety of the film, but she's only actually naked for short bursts of it. So flip the calendar forward two years to 2009, and you have a very different movie that did not get quite as much fanfare. I'm of course once again talking about the psychological horror-thriller tittysploitation film that is After.Life.
After.Life starts with a Christina Ricci sex scene and the kind of gratuitous, in-your-face nudity in that pretty much sets the stage for the rest of it. Man, do we see a lot of Christina Ricci nude in it. More to the point, for the entire sort of middle-to-end part of the movie, her character just does not wear clothes. Like, she's completely nude throughout the whole part of the film. That situation begins, almost fetishistically, with Liam Neeson's funeral home mortician-person-serial killer character cutting her flimsy red dress off with a pair of scissors while she lies on her back on a mortuary slab, exposing her naked body for a camera that does not attempt to hide much (other than her pussy, I'm sad to report).
Big props to the lighting team too, because if you thought seeing Christina Ricci boobs in a thematically dark movie about death meant literal shadows everywhere, you couldn't be more wrong. In fact, she is so damn well lit, that it's almost like those scenes were made solely for titillation purposes. But they totally weren't. I know I always say that as a joke, but in this case, they actually weren't. Why do I say this? Because After.Life was written and directed by Polish filmmaker Agnieszka Wojtowicz-Vosloo in what is, quite impressively, her debut offering. I have said it time and time again, and now I'm going to say it once more: I don't understand why this is such a recurring theme – I well and truly cannot make sense of it – but women write and women direct many of the best nude scenes in film and television. If anyone has any insight into why this is, please do share, because it's one of the most counterintuitive phenomena I've encountered in a very long time.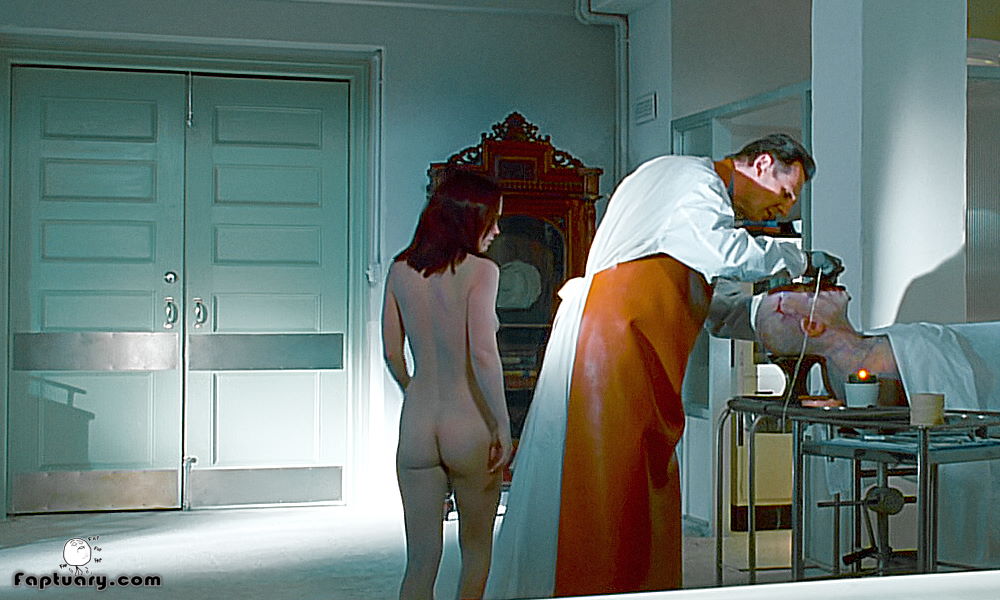 After.Life might actually also be the only film where you can see the heavenly sculpture that is Christina Ricci ass unburdened by any textiles. From Prozac Nation to Z and everything between, I can't think of a single nude scene that she's done that has her ass on display, so this one has to win bonus points for that at least. Before anyone makes an Addams Family comment (she was underage, so, like, don't), Netflix and Tim Burton did indeed team up to revive the franchise, and Christina Ricci is actually in it, but not playing Wednesday Addams, apparently. She's not playing Morticia either, who will be played by none other than Catherine Zeta-Jones, who seems to have the inhuman power of preventing any of her nude scenes from being released in formats that aren't the most substandard of standard definition. You know who thankfully doesn't have that power? Look through this gallery of Christina Ricci naked in After.Life and take a guess.