Orange Is the New Black is not the only place where we can see Ruby Rose naked, but I can say with utmost confidence that it is the best. The only thing that would make this nude scene better would be if it was in 4K. "So why didn't you capture it in 4K, then?" I hear you ask. Believe me, I spent a lot of time scratching my head before I figured out why I couldn't get this episode to stream in 4K when Orange Is the New Black did have the very important Ultra HD tag in Netflix. The answer is that the series only began to be shot in 4K (or with cameras that would be suitable for a final 4K output) from Season 5 onward. The episode with the only Ruby Rose nude scene is, regrettably, in Season 3, which means that not only is there no UHD footage available for it at the moment, but there also never will be.
As for other offering from film and television where we have seen Ruby Rose nude, the only one is 2013's Around The Block, a film from the actress' native country of Australia in which she has a lesbian sex scene with Christina Ricci. Grown Wednesday Addams doesn't get nude during that sex scene, but don't worry about that – we see her plenty naked in the fapper's paradise known as After.Life. As for our gay icon, her right breast makes an appearance during the steamy acts of lesbianism, but the scene is dark, most of her face isn't in shot, just about the entirety of the rest of her body isn't on screen either, and it's just overall not a very fappable scene.
There have been a number of photoshoots from which pics of Ruby Rose nude have been published, but every true celebrity nude scene fapper knows that it's never the same as in a good movie or series. And now that we've gotten through alternative nude scenes, I quickly want to touch on alternative Rubies to clear any confusion. If you are hear looking for nudes of Rubi Rose, rapper from Lexington, Kentucky, you're in the wrong place. Similarly, you might be trying to find information about Ruby Rose Turner, the 16-year-old actress, model, singer, dancer, and decorated United States Marine Corps commando. Even though the spelling there is the same, this is not the same Ruby Rose. Our one is Ruby Rose Langenheim, and no, the German name is no coincidence, since Ruby is the great-granddaughter of Ellen Bang, a German actress whose career spans predominantly from 1934 to 1945, with only four films outside of that. Make of that what you will.
Now that we've spent far more time on overhead than was truly necessary, let's get straight to Ruby Rose topless, tits wide and open on show in a women's prison shower for a solid minute in the night episode of the third season of Orange Is the New Black, titled Where My Dreidel At. If you're planning on making a comment about that episode title being culturally insensitive, I'd like to remind you that an earlier episode from the same season is titled Ching Chong Chang, which incidentally contains a pretty good nude scene from Taylor Schilling herself. 2015 was a different time. Bless.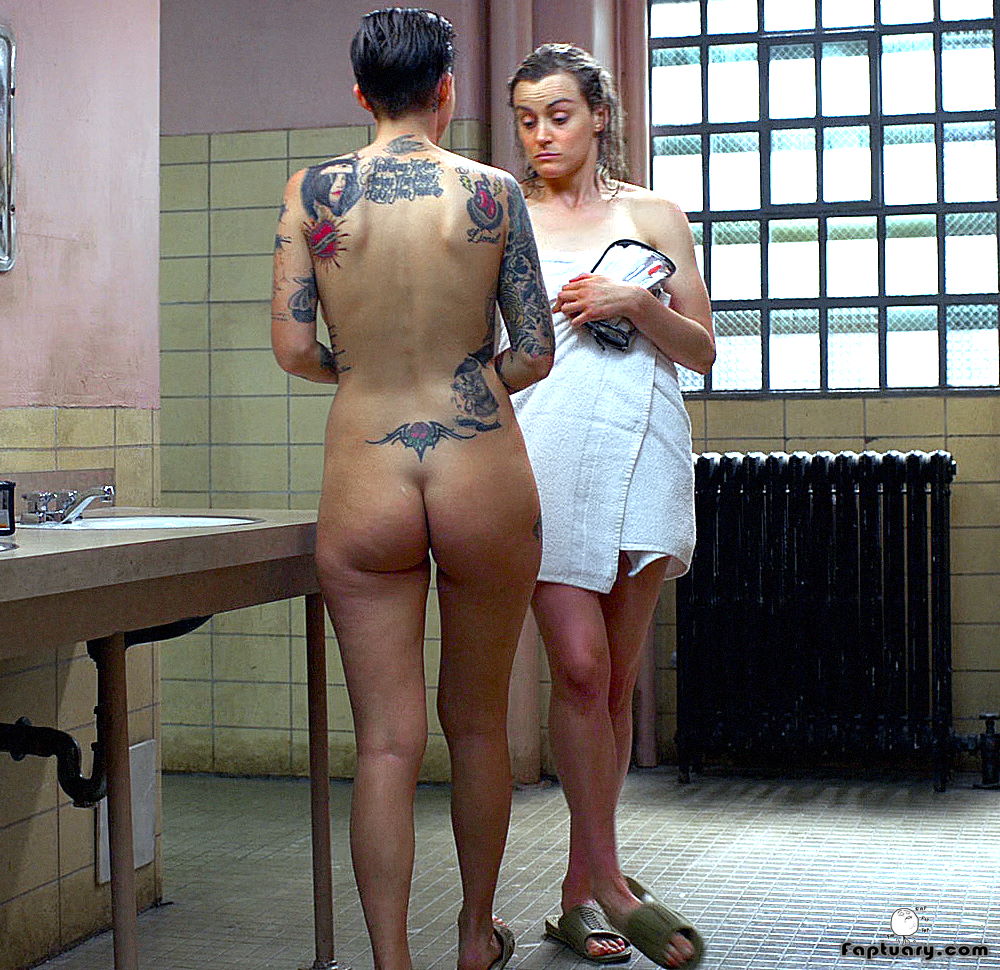 Pretty much par for the course for Netflix, but there is no full frontal nudity in this episode, although we do get a great lingering shot of Ruby Rose's ass as she walks away at the end. This one is mostly out the for the tit men, though. And what a great pair of boobs they are. Makes it all that much more confusing that she has such a challenging relationship with them. Then again, you have that video of her wearing a strap-on, so… Thought now I think about it, would I submit myself to getting pegged by the former MTV heartthrob just so that I could tell the story? Maybe. Offer's out there, Ruby. You know how to reach me. For everyone else, enjoy the gallery of Ruby Rose naked from Orange Is the New Black.