This is a revived post from the faptuary.net days. Click here for what this means. Information below may be neither current nor intelligent.
Original post: August 11, 2012
Remember all the ruckus over the nude scenes in then-upcoming film Wanderlust? Come on, sure you do. Jennifer Aniston herself was promising "a lot of nudity. And a lot of slow motion action nudity," sweetening the deal by adding, "bottomless, topless. Yeah, there is. It's happening," and just in case all of that was too subtle, "there are naked people. It's raunchy. It's raucous." Well, you know what?
That's all the Jennifer Aniston nude scene you're gonna get. That's right. While not clear whether it's because of the actress' infamous prudishness, her new romance and now engagement to co-star Justin Theroux, or producer Judd Apatow's insistence of filling every one of his films with only naked men, it was decided that the Jennifer Aniston nude scene would be pixelated in post-production. Curiously, the same care was not taken for the ten million flopping dicks in the film. Even Ray Liotta has a pointless cameo that consists almost entirely of showing his bare ass!
Malin Akerman is in this film too. You know her; she had that great nude scene in Harold and Kumar Go To Whitecastle (below left), and then another one in the superhero epic Watchmen (below right), and, well, in pretty much every movie she's been in. Maybe if she had a dick, the closeted producers would not have made this movie such a jarring combo-breaker for her.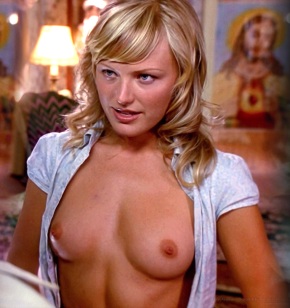 Nudity aside, sure, the film had a few good moments – like Paul Rudd's hillbilly meltdown – but for the most part, it's just self-gratifying, smug, pompous and choking on the thick yuppie-hipster stench it lets off, just like every other film by Judd Apatow.
For those that aren't too bothered by the pixelation, here are the caps and clip of the Jennifer Aniston nude scene, capped from the blu-ray. Also, don't forget to check out the exclusive GIFs on the official Tumblr blog.