I still think about Natalie Dormer naked in Game of Thrones a lot. Falling asleep at night, I think of her naked. Bored at work, I think of her naked. Carrying a coffin at a loved one's funeral, Natalie Dormer's nude scene is playing out in from of my eyes. It's like an obsession. This is quite possible my most treasured nude scene. It goes without saying my dick got more than a few flutters of blood pressure when the 4K UHD blu ray for Season 2 of Game of Thrones came out. The discerning among you will notice that the quality doens't quite scale up as well compared to a normal 1080p blu ray, largely due to the H.265 codec not being quite as robust at the finest detail as H.264 was, but there is more detail in the 4K nonetheless.
Game of Thrones nude scenes are about a dime a dozen. At the same time, it's no secret that the largest part of them were frontloaded into the first season. Indeed, Season 1 had a nude scene just about every episode, and half of the were from Emilia Clarke, who, as we know, was in the role of Daenerys Targaryen, a major character. In fact, she was probably the most major character, and she had her tits out in half the episodes. Then Season 2 began, and it was mostly over. It's for that reason that Natalie Dormer's introduction in the same season and the nude scene that followed were such welcome additions to the show. Unfortunately, this was the first and last on-screen nudity from her in the show. But enough negativity.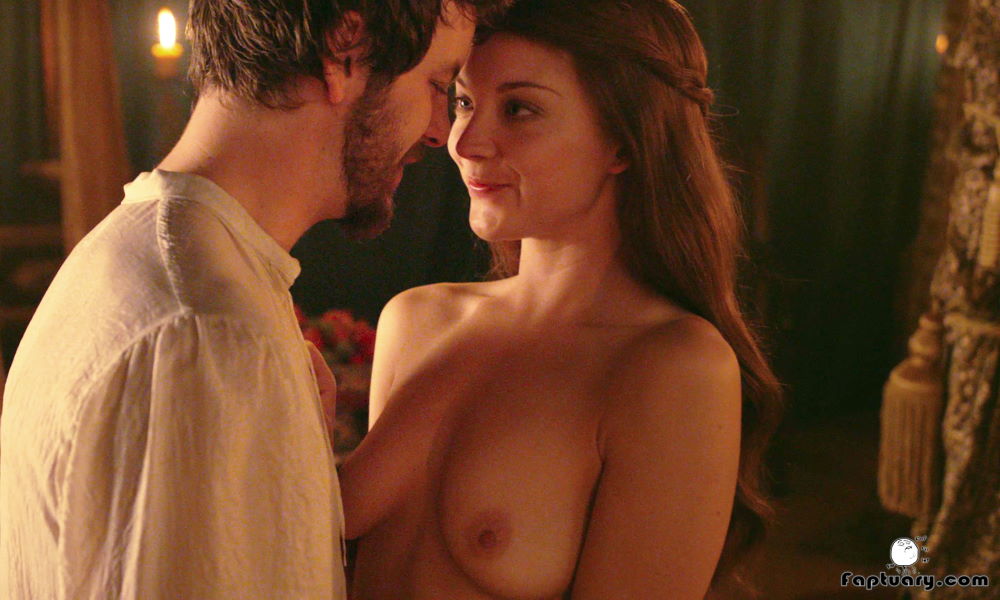 The first time we see Natalie Dormer nude in Game of Thrones is when she corners her gay husband Renly in a tent and undoes her dress, opening it up from the front, and letting it fall to the ground. Margaery Tyrell is aware that Renly is only into dudes at this point, so she's very clearly flashing her tits to the audience, not to him. It's logically inconsistent, but HBO do need to squeeze in the nudity one way or another, and they're not going to let a passionless marriage of convenience stop them.
The rest of the scene plays out with Natalie Dormer topless throughout. It's actually a marvel of good cinematography as far as fapping is concerned. We basically get a full front quadrant of boobage, from front on titty shots all the way to the very fappable sideboob. There's even a point where the camera pans down from Margaery's face to her crotch (while she's topless, of course). Unfortunately, this movement is too quick, and even at very high-bitrate encoding, there's a blur that was captured by the original camera and therefore impossible to overcome.
There is a sort of kind of Natalie Dormer sex scene in a later season where she's getting it on with Tommen Baratheon, but, true to form for HBO past a first season, there's no visible nudity in it. Even though she's not quite Eva Green-tier in her nudity, there are still other films and shows to see Natalie Dormer naked in, including The Tudors, The Fades, Rush, The Scandalous Lady W, In Darkness, and if you think you can beat off to a minimal-resolution, black-and-white, rear shot of a woman who may or may not even be Natalie Dormer, Picnic at Hanging Rock. Overwhelmed? Then ignore all of that and enjoy Natalie Dormer nude in Game of Thrones below.